Where is River Valley Christian Church located?
Scroll down to see Google Maps.
River Valley Christian Church is located at 4295 Egbert Road, just about five miles north of Martinsville, Indiana (not far from where Henderson Ford Road intersects Indiana Route 37).
If your GPS accepts road intersections as destinations, you can enter the intersection of Egbert Road and Centennial Road (not to be confused with Centenary Road). The church is on that corner.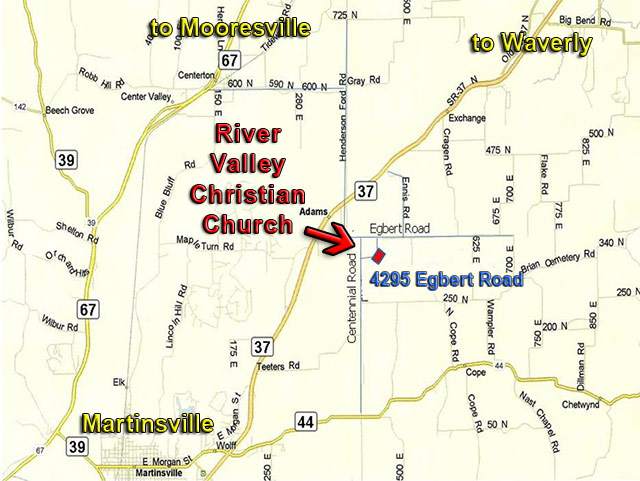 Driving Directions
From Martinsville...
Travel north from Martinsville on Indiana Route 37 approximately five miles (note: if you pass Henderson Ford Road, you've gone too far). Turn right (east) on Egbert Road and the church will be on the right in about a mile at the corner of Egbert and Centennial Roads.
From Route 67, Mooresville, Brooklyn, etc...
From Route 67, take Centerton Road, through Centerton and until it ends at Henderson Ford Road. Turn right on Henderson Ford Road and then right again (south) onto Route 37. In less than a mile, turn left onto Egbert Road and proceed to River Valley Christian Church, on the right, in about a mile. Traveling this route, it should take you about twenty minutes or less to arrive at RVCC from downtown Mooresville. NOTE: Centerton Road goes east from Rt. 67 where Robb Hill Road goes to the west. An alternate, but slightly longer route would be to take Route 144 from Mooresville to Waverly and then follow the directions below.
From Waverly and vicinity...
Travel south on Route 37. In less than one mile after passing Henderson Ford Road, turn left (east) onto Egbert Road and proceed about one mile to River Valley Christian Church on the right.
Get a printable version of these directions.
_________
Google Maps...
_________
Please call (765)349-2700 if you have any questions or difficulty.